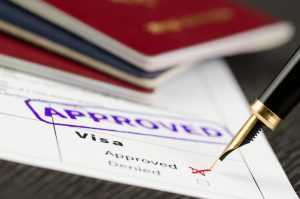 For anyone interested in working in the US, getting the right papers and work authorization is mandatory. Even though the process can be challenging, there are a few things that an applicant can do to expedite the process.
What a Job Seeker Should Know About Work Visas
Employer sponsorship: This step is the first in the visa application process. If you have been interviewed and have an offer in hand, the employer has to sponsor you. Currently, H-1B, L-1 and O-1 visas let foreigners work and live legally in the US. The other option is to check online for positions for which employers are willing sponsors. If you have enough money to invest, then you can apply for an E-2 visa or EB-5 Investor green card.
Visas usually handed out for highly skilled personnel: Most often, US work visas are handed out to people with a Bachelor's degree, lots of work experience and those with specialized skills and domain knowledge. These jobs are usually in the STEM category. Applicants have to be able to prove that their skills are required in the US before they can apply for a work visa in Provo through a lawyer.
Other candidates: As part of the hiring process, US based companies prefer to hire citizens and residents. If a company is unable to find a candidate for the post, only then is a foreign national given the job.
Applying for an F1 or J1 Visa: If an applicant doesn't meet the requirements needed for a work visa, he/she can consider going as an exchange student. The other option is to go to college in the US and get an F-1 student visa. This is not an easy visa to get either but it will help a person get the skills needed to work in the US. There is a lot of information available on the Internet about exchange programs.
Hire a lawyer: If you want to get a valid work visa fast, then hire a lawyer in Provo or any other city. The process can be complicated and a competent lawyer familiar with employment rules can guide you through the process.
Handled properly, getting a visa and working in the US can be an invaluable experience for job seekers.